The new .fod.uk domain from ForestFuture
Available NOW in the Forest of Dean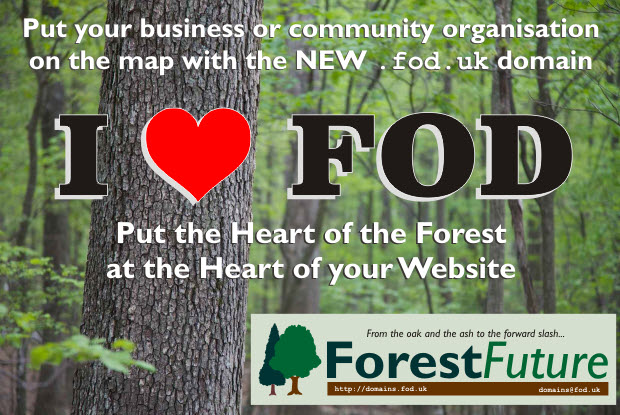 Overview
With its unique geography, wildlife, and people, the Forest of Dean has always set itself apart from the rest of the United Kingdom, but until now its websites had to share the .uk domain with the rest of the country. Not any more! With the new .fod.uk domain you can put the heart of the Forest at the heart of your website.
The Impact
What's good enough for the big city is good enough for us — consider the benefits of the .london domain for our capital city — they also apply to the Forest of Dean:
.fod.uk

clearly tells consumers and customers where you are and that your content is relevant to them.

.fod.uk

offers the opportunity for a memorable and distinctive web address.
A short, memorable

.fod.uk

web address appearing in search results will appeal to users and signpost local, relevant content.
Upgrade your basic website by adding one of our exciting software packages such as a blog powered by WordPress or start an online shop powered by OpenCart!
Prices
All domain prices include web hosting or web forwarding, including POP3 e-mail and webmail. Standard annual renewal prices are £24 per domain (including premium domains). A small number of domains may be unavailable for technical reasons (Examples: http://webmail.fod.uk or http://m.fod.uk)
Contact Us: